The settings options for apps are very important, yet are often overlooked. The goal of this Todo Essentials—General Settings series is to explore the options available in the General Settings of the basic Todo app as well as Todo Cloud.
Completed Tasks Section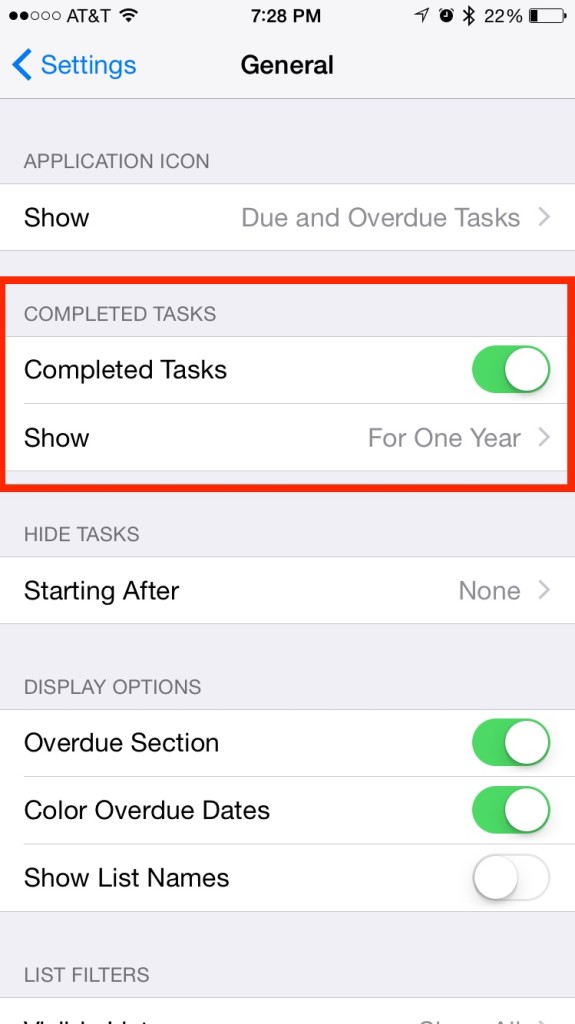 The second section of the General Settings screen is the Completed Tasks section. This section includes an ON/OFF toggle. The toggle is used to view (ON) or hide (OFF) tasks once they are marked as completed. I suggest that you toggle this option ON; this feature can be very useful for users who deal with memory issues. The ability to see completed tasks can help with memory as well as overall confidence and self-esteem. It's not uncommon for us to question whether and/or when we paid a bill, etc. Seeing completed tasks allows users to search for completed tasks and see when (i.e, date and time) the task was marked as completed.
The options within the Completed Tasks section allow you to choose the amount of time completed tasks will appear in the Todo app. Completed tasks will show in the list/project/checklist to which they were originally assigned. The following options appear when the Show field is selected:
All — Shows all completed tasks regardless of how long ago the tasks were marked as completed. This is a good option if you want to track what you completed over an extended period of time. It will make your backup file larger because it will "remember" everything you have completed; however, you'll have easy access to past tasks.
One Day, Two Days, Three Days — Provides options for showing tasks completed one day, two days, or three days back in time. Some users might think this is a good option; however, it isn't a good option for users with memory or organization challenges.
One Week, Two Weeks(s) — Provides options for showing tasks completed one week or two weeks back in time. This option extends the amount of time completed tasks are visible; however, like the option discussed above, it isn't a good option for users with memory or organization challenges.
One Month — Shows completed tasks for up to one month. This may be a reasonable option for some, but again, for those with memory issues, one month is probably not long enough to save a record of completed tasks.
One Year — Shows all tasks completed within the last year.
Of the options presented above, I would recommend showing completed tasks for one year. This option provides a happy medium between having too much information available and not enough to be helpful.