Welcome to the new and improved Making Cognitive Connections (ID 4 the Web) site! We've been working like crazy to create a site that is clutter-free and easy to navigate.
What's the difference?
In a nutshell, our home page has gone from this: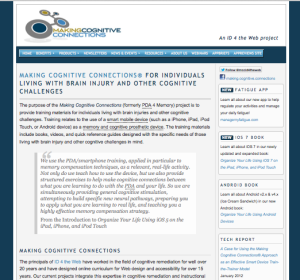 to this: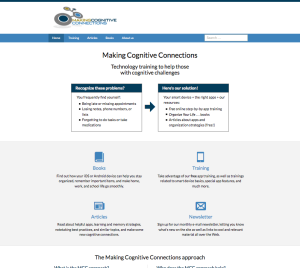 Our site redesign goals
We were going for a cleaner, more spacious look overall—so that the eyes (and brain!) aren't overwhelmed with too much information at once.
We also wanted to make the site responsive—so that it can be viewed on any screen, from phone to tablet to laptop to desktop: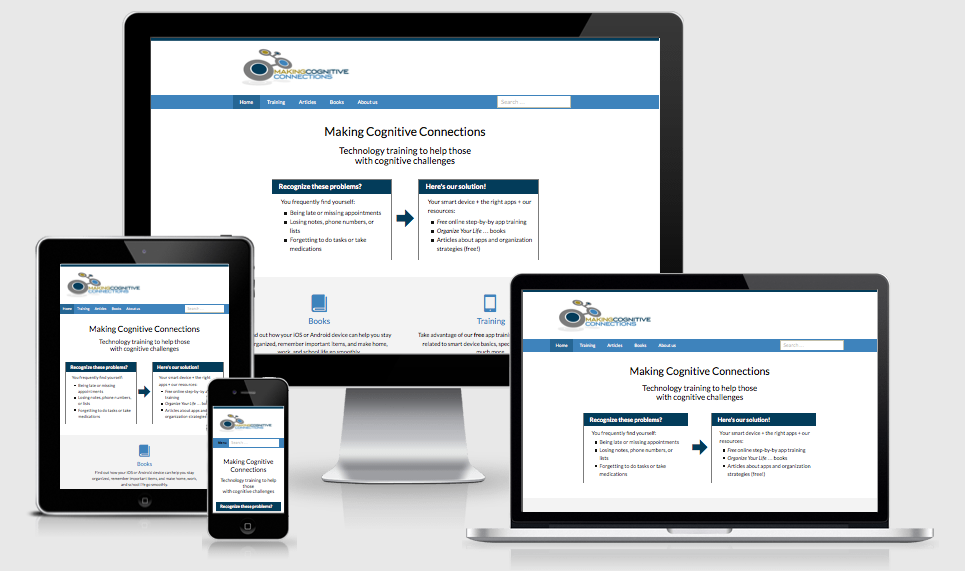 We wanted Making Cognitive Connections' purpose to be crystal clear. So we added a tagline ("Technology training to help those with cognitive challenges") and a little problem-solution diagram to spell it out:

Finally, and most importantly, we wanted to make it easier for you to find what you want. To that end:
We added a Search field at the top of the page.
We reorganized content into just a few categories, reflected in the navigation menu at the top:

We added tags to each page and article, and a "tag cloud" to the footer on each page:

So now you can search by keyword (using the Search feature), by category (using the navigation menu), or by tag (using the tag cloud).
Explore the site
Here's a quick, partial site map (based on the navigation menu) to get you oriented to where things are, and then we'll leave you to start exploring:
Home

All about Making Cognitive Connections
Benefits of the MCC approach

Training
Articles
Books
About us
Good places to start include the Training and Articles pages, as each one will lead you to lots of content, with plenty more coming soon.
Feedback welcome
Please let us know how you like the new design by dropping us a note via the Contact Us page! We'd love to hear from you!