Have you ever…
Wished you really knew how to use your iPhone or iPad?
Missed or double-booked appointments?
Taken notes and then couldn't find them?
Forgotten about homework assignments?
Not allowed enough time to get where you need to be?
Wished you had all your contact information in one place?
Forgotten a list of shopping items when going to the market?
Wished you had a recorder with you to capture important information?
Wanted your photos grouped into albums so you could manage them?
Book available at BEST (Brain Education Strategies and Technology)!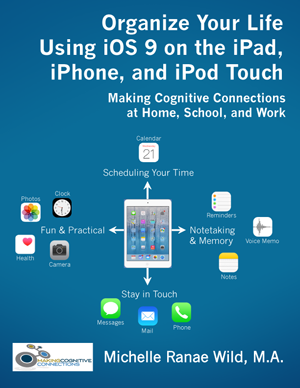 Table of Contents
Section 1: What Is This Thing You Call Making Cognitive Connections?

Making Cognitive Connections

Section 2: Getting to Know Your Device, Even If You Think You Already Know It!

Getting to Know Your Device
Device Basics
More iOS Basics
Entering & Editing Text

Section 3: Scheduling your time and time management

The Calendar App—Views
The Calendar App—Events
The Calendar App—Settings

Section 4: Notetaking and Memory

The Reminders App
The Notes App
The Voice Memos App

Section 5: Stay in Touch Apps

The Contacts App
Mail & Messages Apps
Phone & FaceTime

Section 6: Fun and Practical Apps

Camera & Photos Apps
Health & Wallet Apps
The Clock App
Maps & Safari
Weather, Stocks, Calculator, & Compass
The App Store & iTunes
Book features
Print sized for easy reading
Limited text on each page providing extra white space to prevent information overload
Clearly designated quick steps showing step-by-step details for each function
Images to help orient the reader to the relevant iPad, iPhone, and iPod Touch screens
Making Cognitive Connections exercises in each chapter
Troubleshooting pointers in each chapter to help you resolve some of the more common errors users make
Things to Remember list in each chapter for review of important points
Reflect questions in each chapter to help you stop and think about what you learn